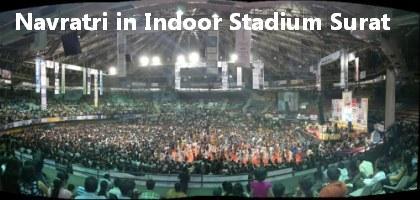 Navratri in indoor Stadium Surat - Indoor Stadium Surat Garba 2014

A modern stadium (plural stadiums) is a place or venue for (mostly) outdoor sports, concerts, or other events and consists of a field or stage either partly or completely surrounded by a structure designed to allow spectators to stand or sit and view the event.

Now a day Stadium used for different event like Navratri, lager celebration of party, any live concert Etc… Surat City of Gujarat Indoor Stadium famous for Navratri.

One of the key Attractions of Surat is Indoor Stadium. Inaugurated in December 1998, the complex boasts of all modern facilities and was built at a cost of Rs. 21 cores. (Rs. 21,00,00,000/-). Indoor Stadium in Surat seating capacity is 7000 viewers.

Navratri in Indoor Stadium at Surat 2014
Date: 25th September 2014 to 3rd October 2014
Garba Time Approx: 7.00 PM TO 12.00 PM
Address: Ghod Dod Road, Surat
Navratri in Indoor Stadium Surat is very famous. Navratri in indoor Stadium is organizing by Surat Municipal Corporation. The SMC has been hiring out the stadium to commercial organizers during the Navratri for the past nine years.


Indoor Stadium is first of its kind in the Western Region of India. Navratri in Indoor Stadium Surat Fee is around Rs. 700 which many Surtis bought happily, and enjoy Navratri in Indoor Stadium.

So, Participant in Indoor Stadium Surat Garba 2014 and make new Enjoyment with Friend and Family.


Navratri in Surat - Garba
Events in Surat
Navratri Dates This Year
-
Latest Navratri News


Post Comment
Navratri in indoor Stadium Surat - Indoor Stadium Surat Garba 2014, Indoor Stadium Surat Garba 2014, Navratri in indoor Stadium Surat, Navratri in Indoor Stadium Surat 2014, Navratri in indoor Stadium, Surat Indoor Stadium Navratri, Navratri in Surat at Indoor Stadium 2014, Indoor Stadium in Surat Navratri 2014, 2014 Navratri in Indoor Stadium, Garba in Indoor Stadium Surat